"Breaking up is hard to do" is perhaps the biggest understatement of the century (thanks, Neil Sedaka). Besides boxing everything he's ever given you and changing your relationship status back to single on Facebook, you have to deal with everyone and her mother asking variations of these two questions: "What happened?" and "Are you okay?" It's enough to drive any girl totally nuts! But before you make your television set and a box of Entenmann's chocolate cake your new BFFs, laugh, cry, and de-stress over these GIFs. You'll feel better, we promise!
1. Be unbearably dramatic over the Internet. Taylor, the beginning of "I Knew You Were Trouble" is scorched in our minds forever.
2. Pay him a drunken 2 a.m. visit, especially if you're wearing a bit too much mascara/eyeliner.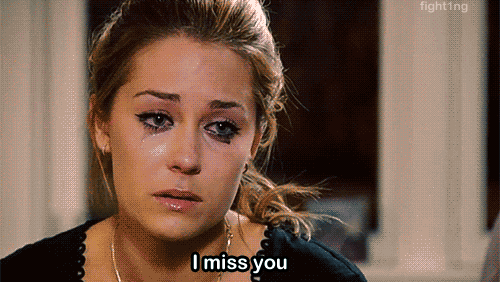 3. Go Fatal Attraction on his no good a$$. Sure, he probably deserves it, but that poor unsuspecting bunny…
4. This:
5. Or this:
6. Eat your feelings.
7. Convince other people to eat their feelings with you in a big feelings-laden party. So.many.feelings!
8. Not leave the house.
9. Engage in hot breakup sex. Okay, maybe once.
10. Write a bad breakup song/poem/letter…and send it to him.
11. Spend all of your time on the Internet Googling his new girlfriend's name.
12. Kill him. Yeah, don't do that.
And remember…
Image Credits 2, 3, 4, 5, 6, 7, 8, 9, 10, 11, 12, 13, 14, 15