When my twin boys were seven years old and my daughter reached the age of six, I started taking them abroad from Europe to Latin America to Asia. I have embraced the value of international travel with my kids at all ages, as it enhances the quality time in the moment – just me and the kids working together to figure out new landscapes, currencies, foods and cultural experiences.
Around February of each year, my husband and I carefully craft what we hope the education of summer travel will bring to our kids. This year since our boys turned 13 and our daughter 10, we aspired for them to further develop the emotion of empathy — for them to think beyond themselves and contemplate the plight of others. My husband had an opportunity to take one of our son's to China, so as I had longed to see Cuba — for over two decades — the time was ripe.
While my kids had traveled to places not necessarily ripe for tourism, Cuba was even more of an anomaly, and as a safety precaution, we decided it was best to cruise to Cuba to get a taste of the island rather than being on the ground for an extended time. We chose a 4-day cruise on Norwegian Cruise Line's Norwegian Sky, which sailed to both Cuba and Great Stirrup Cay, the cruise line's private island in the Bahamas.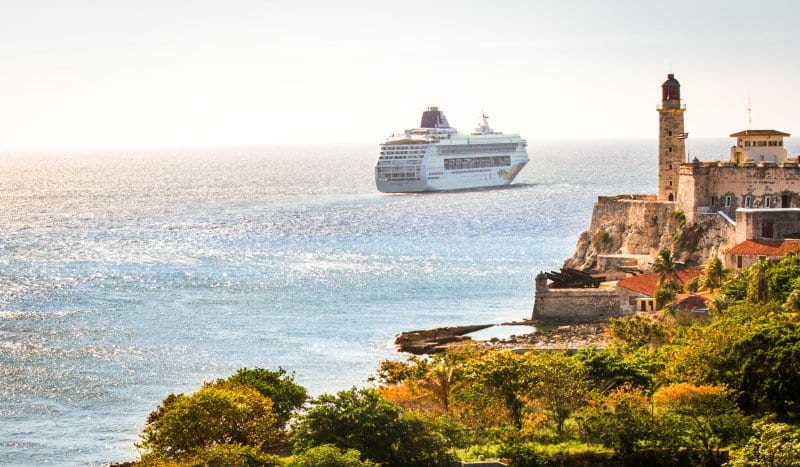 We sailed on a Sunday afternoon out of PortMiami on a crystal-clear day and watched the stylish mansions of Palm and Star Island in Miami Beach disappear in the distance. I was full of edgy anticipation to travel to Cuba – it is emotionally overwhelming to finally go to a place that has been on your long-term bucket list. The flip side is that as an executive and the mother of three children, I wholly embraced being taken care of for the next four days, where I didn't have to lift a finger: thinking about entertaining my two kids, what they ate, how they dress or the endless log of logistics around kids' daily schedules.
From the moment we go onboard, my kids had a field day with the onboard sports facility, video arcade, and teen and youth programs, while I went into tranquillo mode by the pools, soaking up the balmy Caribbean weather. The food on most any cruise is boundless, and thankfully, my kids are very adventurous eaters, so we could try new foods, such as the traditional Caribbean cuisine. That first night onboard will serve as one of the favorite memories where my 10-year-old daughter and I danced to pop music under the stars, seemingly for hours. My 13-year-old son – then mortified — opted to take off for the teen room, and in a contained cruise, I felt comfortable for him to do that!
Entering the Cuban harbor first thing in the morning was a sight not to be missed. We were persuaded to head to the bow of the ship around 6:30 am, and in quiet, still waters, there was a small handful of us who dared the early hour after late night cruise festivities. Many of us stood side by side with various reactions to the disbelief of the beauty we were seeing as we approached Havana's port and accompanying lighthouse. The fact that we were even in Cuban waters was surreal.
Tears streamed down my face as many of us had stories to share our connection to Cuba. For me, I had worked for the first Cuban Americans in Congress, US Rep. Ileana Ros-Lehtinen, and managed foreign policy legislation, including US policies for Cuba. For the man standing next to me, a Cuban national who had fled Castro's dictatorship in the early 1970s, he was returning to Cuba for the first time and pondering whether his childhood home still stood.
The Cuban port is small and can only accommodate two ships at a time, so you are not overwhelmed that you are a tourist in this newfound destination. You get a taste pretty quickly of the way Cuba used to be and where it could be heading. The brightly colored convertibles of the 1950s, interspersed with the horse and buggy carrying produce and goods to be sold in the marketplace and the occasional more modern looking car.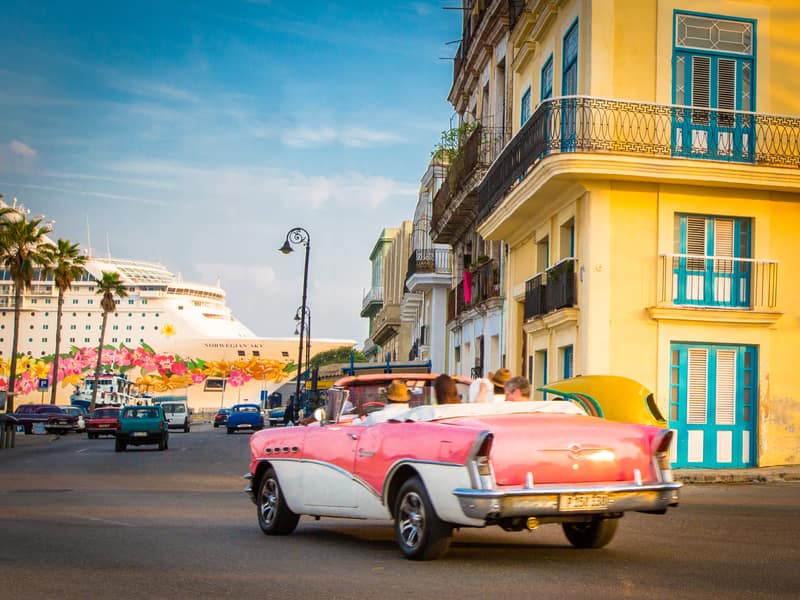 To get our footing quickly, we took advantage of Norwegian's shore excursion, "Modern Havana in an America Classic" which comprised of a 3-hour tour in a vintage car that briskly visited the highlights of Cuba's past and present. For my kids', this was the tough part of the trip: Which brightly colored Chevy, Pontiac or Buick should we go with? Irrespective of the 90+ degree temperature and near 100% humidity, you just had to capture Havana highlights in a ragtop.
So off we drove in a lime green '57 Chevy through the streets of downtown Havana in route to Revolution Square, famous among Cubans for being the venue of the most important historical and political events on the island. As you drive deeper into Havana, you witness spectacular Spanish Colonial architecture, iconic sites, such as the Cuban Congress and National Library of Science and Technology_. Coupled with Havana's cobbled streets, I'd have to remind myself that it is Havana, Cuba that we are in, and not Paris or Rome. Yet, a few streets away from the harbor and you encounter dilapidated – literally crumbling – buildings with the occasional graffiti shout out to Fidel Castro, and be brought back to the realities since Cuba's Revolution in 1959.
One of the highlights of the tour was that of Havana's National Cemetery. Founded in 1876, and the burial site of Ibrahim Ferrer Planas, one of the most famous Cuban musicians from the original Buena Vista Social Club, the cemetery is a visual display of
stunning architecture, with mausoleums that appear to be smaller structures of the owner's once glorious homesteads.
From there, we cooled down in the magnificent Havana Forest, which runs along the Almendares River and a popular place for many locals to fish. We further cooled off with a Mojito (and a soft drink for the kids) at Cuba's notorious National Hotel, where the decorated walls of celebrity photos who once stayed at the hotel reminds you of a Havana's elegant past.
While on foot in Old Havana, we decided to track Ernest Hemingway's haunts where we checked out El Floridita, the over 200-year-old restaurant bar where legend has that its most famous patron once reportedly put 13 double daiquiris away in one sitting. We strolled down the quaint streets of Obispo and Obrapia, imagining "Papa" taking a relaxing stroll as he mulled over his next novel. One of the more beautiful streets is along the evocative Malecón that runs along the ocean side, a prevalent hangout for Havanan's around sunset.
The former presidential palace of the Capitolio Nacional is worth the drive by and not to be missed is the world-class art collection at Museo Nacional de Bellas Artes, which showcases everything from colonial-era paintings to countless masterpieces from Cuba's famed Vanguard period. Whether you are an art fan or not, for us, there was just not enough time here.
Havana, Cuba is a place that I have been pinning to go to for decades, and it did not disappoint for me or my kids. We will be back – for sure — as Havana captivates with its larger-than-life culture, sultry rhythms and weathered beauty with heart and soul.